In the blog we will discuss the purpose of 5G internet, how 5G works, why it is 5G and how it changes and simplifies the ways of communication.
What is 5G?
5G is the 5th generation internet network. This is a new, global wireless standard after 1G, 2G, 3G and 4G networks. 5G allows for a new type of network designed to connect virtually everyone and everything, including cars, facilities and equipment.
5G wireless technology aims to increase the multi-speed of high-speed data, ultra-low latency, more reliability, increase the network's massive capabilities and accessibility. Activating higher quality and improved efficiency connects new industries to each other.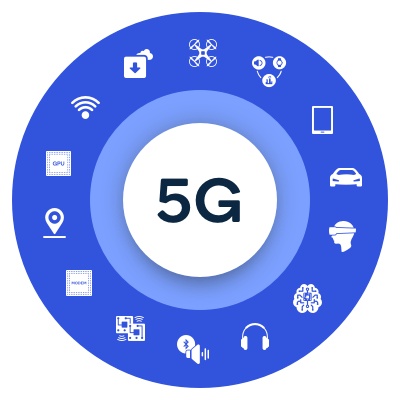 What the differences are between the previous generation Internet networks and 5G?
The previous generations of Internet networks are: 1G, 2G, 3G and 4G.
First generation - 1G
1980s: The first mobile generation of 1G wireless, cellular technology (mobile telecommunications).
Second generation - 2G
In the early 1990s: 2G introduced new digital routes (e.g. CDMA codes with multiple accesses).
The third generation - 3G
In the early 2000s: 3G gave us mobile data (e.g. CDMA2000).
Fourth generation - 4G LTE
2010: 4G is the fourth generation of broadband cellular network technology to successfully compete with 3G.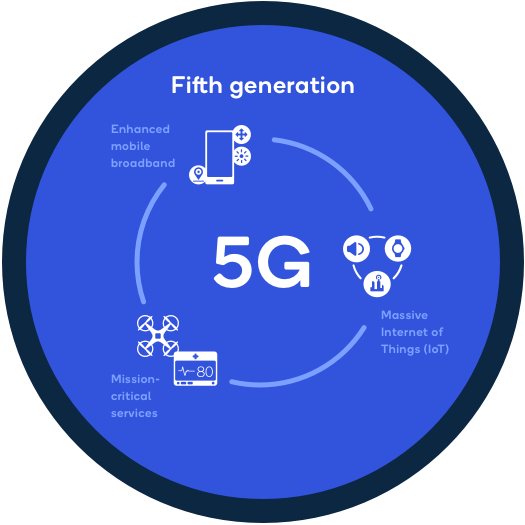 5G is a single, more powerful air interface. It is designed with enhanced capabilities to provide a new generation of customer experience, deploy new models and provide new services to customers. With high speed, higher reliability and negligible latency, 5G will expand the ecosystem to new areas. 5G will affect all industries, affect safe transportation, remote healthcare, agriculture, digital logistics and other important industries.
How and when will 5G affect the global economy?
5G affects global growth
$ 13.2 trillion in global economic output
$ 22.3 million to create new jobs
$ 2.1 trillion in GDP growth
In terms of 5G economy, we have found that 5G will have a full economic effect worldwide by 2035. This will help a wide range of industries and make it possible for goods and services worth up to $ 13.2 trillion.
Where is 5G used?
5G can activate new services that can transform industries with ultra-reliable, affordable, low-latent links such as remote control of critical infrastructure, machines, and medical procedures.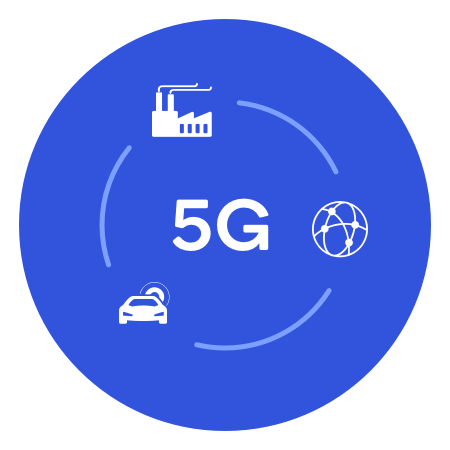 How fast is 5G?
5G is designed - 20 GB per second. However 5G is more than fast internet. In addition to the higher data rate, 5G is designed to create more network capabilities in a new range, such as mmWave. 5G can also provide a much lower latent for a more immediate response and can provide a more unified user experience so that data rates are consistently high - even when users are moving. And the new 5G NR mobile network support is provided by the Gigabit LTE Coverage Fund, which can provide a comprehensive Gigabit class connection.
Is 5G already available?
Yes, 5G is already in use today, and global operators have launched new 5G networks in early 2019. In 2020, many countries are waiting for the launch of a 5G network across the country. Also, all major manufacturers of Android phones commercialize 5G phones and soon, even more people will be able to use 5G.
5G is located in 35+ countries. Consumers are very excited about the high speed and low latency. But 5G goes beyond that benefit, as well as providing mission-critical services, improved mobile broadband, and massive IoT capabilities.
While it's hard to predict when 5G will be available to everyone, we're seeing a big impetus to launch 5G in the first year, and we expect more countries to launch their 5G networks in 2020.
As of June 2020, 5G is available in the following countries:
Australia
Austria
Belgium
Bahrain
Canada
China
Czech Republic
Finland
Germany
Hong Kong
Hungary
Ireland
Italy

Japan
Kuwait
Maldives
Monaco
Netherlands
New Zealand
Norway
Oman
Philippines
Poland
Puerto Rico
Qatar
Romania

Saudi Arabia
South Africa
South Korea
Spain
Sweden
Switzerland
Thailand
Trinidad and Tobago
United Arab Emirates
United Kingdom
United States of America
Virgin Islands, U.S.
Do we need a new release mobile phone to use 5G?
Yes, you will need a new smartphone that supports 5G.
There are several new mobile phones designed with 5G support. ᲛAll companies around the world support the 5G wireless network.