What is the difference between cPanel and Plesk?
The main difference between Plesk and cPanel is their interface and web servers. Plesks user interface is similar to WordPress control panel and supports Linux and Windows servers. cPanel has a graphical user interface and is only compatible with Linux web servers.
The blog shows you the strengths and weaknesses of Linux cPanel and Windows Plesk, which will help you easily see the differences and select the appropriate option.
Features
Plesk
cPanel

Operating system

Debian, Ubuntu, CentOS, RHEL, Cloud Linux, Amazon Linux, Virtuozzo Linux, Windows Server 2008 R2 SP          
CentOS, CloudLinux, or RHEL 7, or Amazon Linux 
 
Migration
It can be done using the Plesk Migrator tool
You must use the transfer tool available at WHM. It cannot be done using cPanel.
Web servers
NGINX & Apache     
Apache
Admin panel
Shared control panel for user and server administrator
2 separate control panels, for user and server administrator
User interface

Updated UX / UI with modern JavaScript technology

Graphic interface
Additional tools and applications
You can get more than 112 extensions and applications from the Applications and Extensions catalog.
You can only access applications and extensions from Softaculous.
Safety
With a single click on the SSL Certificate, you can track plugin updates, install various security offerings, and correct errors easily.
You can create a blacklist of individual IPs, activate SSL certificates, encrypt% of outgoing messages, or create multitasking authorizations for clients.
Database access
Provides MySQL or MSSQL Server databases
cPanel provides access to PhpMyAdmin MySQL database management.
Customized for mobile
Has a mobile application for both iOS and Android
Has no mobile app
Backup copies
Various website backup tools are available such as: ropBox, AWS S3, Google Drive and Acronis. You can protect sensitive data in your backup system with enhanced password protection.
Backups are configured and stored in the backup repository manually.
Support
You can contact the technical team 24/7 without any fees. It does not matter if you are their partner or not.
You can open a support ticket or have to pay $ 65 for priority telephone support.
SSL     
Lets Encrypt + Symantec    
Lets Encrypt
Plesk ONYX vs cPanel 2020 market share
cPanel creates a domain every 6 seconds and a hosting account every 14.5 seconds. More than 50% of the worlds top 100 service providers use Plesk control panel. Plesk supports more than 10 million websites and applications.
Plesk vs cPanel: Which is better?
Several factors need to be considered:
User interface
Support
Features and tools
safety
operating system
Backup copies
Price
User interface
Plesk 
Plesk Onyx offers updated UX / UI with state-of-the-art JavaScript technology. Its dashboard is similar to WordPress control panel.
Key Features:
Easy and convenient for beginners;
Sophisticated user interface;
It is easy to place all the features;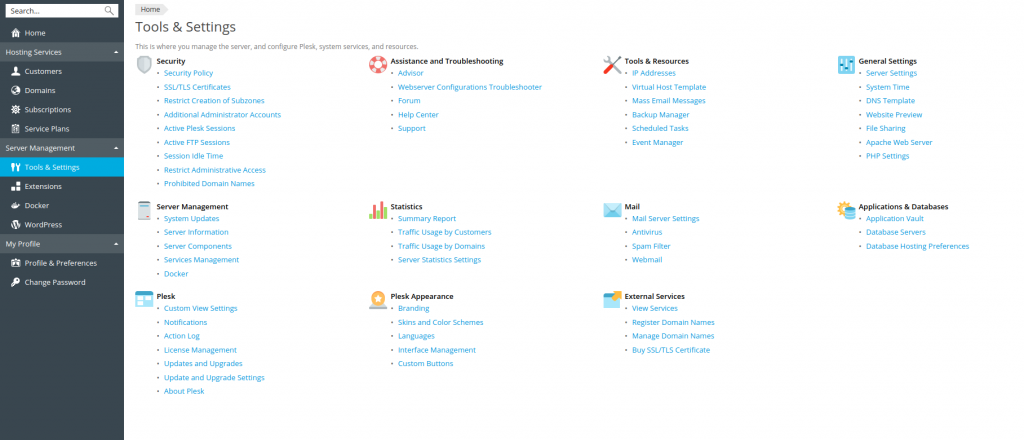 cPanel 
CPanel for Linux, all items are divided into sections. Files, Database, Domain, Email, Metrics, Security, Software, and Applications are all sections that you can view on the cPanel control panel homepage.
Key Features:
Graphical user interface;
Grouping of identical characteristics;
Allows you to change your control panel to the main page;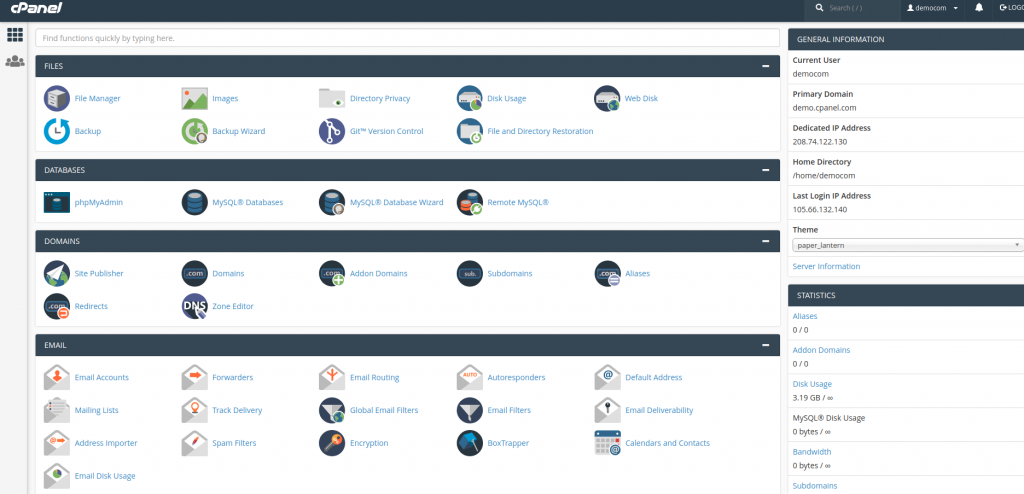 Technical support
Formal technical support is an important point to consider before making any decision. Any delays in time, technical support is required.
Plesk technical support
You can call Plesk Technical Team 24/7 at no charge. If you are not a user of them, you can ask them questions on the official forum or social media.
CPanel technical support
If you need CPanel technical support, you need to open a support ticket.
You can contact the technical team Call facility - working hours: working days 6:00 - 18:00; Weekend 6: 00-4: 00.
You need to pay $ 65 to get emergency care.
Features and tools
Plesk 
WordPress Security with the click of a button;
Plesk hosting works on both Linux and windows;
Get Docker support on Linux;
They can be activated from the web hosting panel;
Plesk is compatible with Git, for which you must use the Gitman extension;
cPanel 
Installing CPanel and WHM takes 5 minutes;
One-click sites to redirect to HTTPS;
Node.js software development;
You will be able to add Imunify360 as a security indicator;
SpamBox is automatically installed on new cPanel accounts;
Safety
For any web user, security is a priority. The platform you choose must meet all safety standards.
Plesk
Plesk control panel supports many security applications: Immunity 360, Fail2ban, Active Directory.
Key Features:
Safety measures within 24 hours;
You can configure your domains with DNS and DNSSEC configuration;
It offers Lets Encrypt or Symantec SSL;
Automatic recovery and error correction works to solve technical problems without the need for expert support;
With one click on Plesk Security Advisor, you will be able to activate SSL Certificate and HTTP;
Additionally, you will see the following security options on your Dashboard: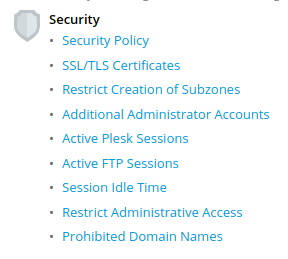 cPanel 
The most well-known security extensions offered by CPanel include automatic SSL certificate activation, IP prohibitions, and password security.
Key Features:
Black or white list of individual IP addresses, as well as the whole region and countries;
Filter all outgoing messages;
You can offer your users multifunctional authorization;
Allows you to easily integrate with a third party;

Operating system
Plesk is compatible with both Linux and Windows servers, while cPanel works only with Linux servers.
Plesk 
It is a cross-platform application and runs on many OS. These include:
With RHELLet you can see the difference between Plesk and cPanel when it comes to backups:
Cloud Linux;
Amazon Linux;
Virtual Linux;
Windows Server 2008 R2 SP
CPanel 
CPanel only works on Linux. It can run on the following operating systems:
CentOS;
CloudLinux;
Red Hat Enterprise Linux;
Amazon Linux;
Backup copies
Both platforms offer fantastic support and security, but you never know when you may need to back up / restore. Lets see how PLSK backup support differs from cPanel:
Plesk 
Plesk offers 2 types of backups:
A complete backup program that includes all the data, no matter when the data was uploaded.
The use of additional backup tools reduces backup operations. Მ Ten can be stored both in the internal storage of Plesk, as well as in the external storage of FTP.
Key Features:
You can make a backup schedule;
Allows you to save backup copies throughout the server;
Last feature: -You can save sensitive data to your backup system using enhanced password protection.
cPanel 
Key Features:
Offers daily, weekly and monthly backups;
Backup schedule;
By default, the system saves backup files locally / backup / directory;
Note-cPanel & WHM does not include an interface for restoring backup files;
Cost
Plesk and cPanel, have different price plans, the price depends on the customers requirements.
Plesk 
Plesk offers 3 different plans for VPS and dedicated servers.
Key Features:
If you run more than 20 servers, you can contact their affiliate program;
A monthly payment option is also available;
You will benefit from a discount if you purchase an annual plan;
cPanel
cPanel offers 3 options: Solo, VPS and Dedicated. You can pay monthly or annually.
Key Features:
You will benefit from a special partnership discount of more than 30%;
A monthly payment schedule is also available;
Additional discounts if you decide on an annual plan;
Plesk or cPanel on WordPress
Plesk control panel is identical to WordPress Dashboard. If you know how to work with WordPress Dashboard, then you can easily manage Plesk Onyx Dashboard. It also offers integrated WordPress tools to make it easy to install. cPanel also offers a one-click installation of WordPress.
Plesk vs. cPanel: Which is better?
cPanel is very popular because it is easy to use and runs on Linux-based servers, which are a large part of the Internet;
Plesk is a better option when you want to manage multiple servers with a single control panel;
The Plesk panel has a separate license for 10-30 websites, so the less you use to manage a website, the less you will pay;
But if you have a large number of sites, then cPanel may be a more affordable option;