Everything on the internet is changing rapidly. Your website may have been optimized for SEO, but since then a lot has changed in the internet space. Want to take full advantage of your website? Compare the number of visitors to the site and have a high SEO rate? To do this, you need to check your site's performance regularly.
In this post, we will show you an example of your site review to let you know what works and what needs to be improved on your site.
How is a website audited ?!
In order to successfully test your site, you need to know three things: what website auditing means, who your ideal audience is, and what your goals are. Website auditing takes into account all the factors that can affect the success of your website, such as: your prospects, your users, and Google. Google holds 88.47% of the market, which means that its role in optimizing our website is important.
Website review and audit tools
It's hard to start working on your site if you don't have enough information about the flaws, such as how your site is currently working. Therefore, it is best to conduct an audit first and then work on improving the results. You can find both free and paid website auditing tools. You should keep in mind that in this case it is better to apply to the auditing companies of a special site in order to thoroughly inspect your site and correct any deficiencies, or to independently purchase paid tools and respond to them yourself.
Google Audit Tools
Google offers multiple tools to help you review your website. Here are three Google methods that will help you in auditing your website. Google PageSpeed ​​Insights is a tool that reports page work on both mobile and desktop devices and offers a variety of ways on how to improve your site. Please note that this tool only reviews the URL (link) provided by your website, and not your entire website at the same time.
Google Analytics
Analytics offers comprehensive information on your website. If you have never used Google Analytics, I recommend that you read all the information, because Analytics will help you get information about your users, the number of visitors to the site, and so on. Do you have a slow load on the site? This is one of the main problems that causes discomfort to your customers. Google Analytics shows you the most popular pages on your site, so you can find out which service or product interests your customer the most. We also offer Google Search Console, which shows you:
► How often does your site appear in the Google search engine;
► What words and sentences are they looking for your site;
The information collected by Google Search Console will help you improve your website's SEO and success.
Audit your site for technical issues
Is your website protected?
SSL Certificate is the best guarantee for site protection. Without SSL certification, the information transmitted from the end user (site visitor) to vulnerable sites (for example, when purchasing or registering by email) and vice versa is not encrypted. This means that your site is at risk, it is easy to steal and delete information. The browser shows whether the site is secure or not, and this can have a big impact on user credibility (remember, they are your potential users). Below are examples of sites with and without an SSL certificate.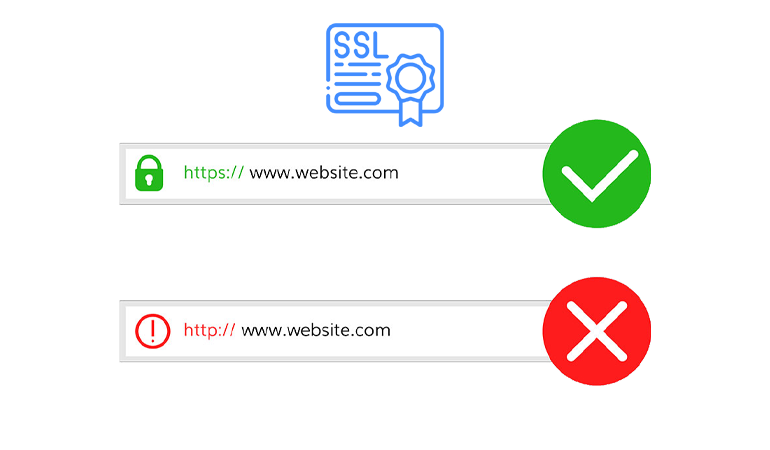 A site without SSL (does not use HTTPS) next to the domain name indicates that the website is not secure. Always keep personal information about yourself and your customers.
What does your site look like in the most popular browsers?
Check your site in all major browsers to see if it is convenient and convenient for your visitors. Make the necessary changes to improve your website in all browsers. Don't forget to check out the mobile versions of these browsers as well.
Does your site have backups?
Before making any major changes to your site, you must create backups to lose your site information during changes or updates.
SEO audit of your website
An SEO audit can help you optimize your website, do you have a site map that is designed so that Google and other search engines can easily perceive your site? Are all pages on your site optimized for SEO ratings? Do you use relevant SEO keywords on your site? Do all your pages have Title Tags and Meta Descriptions?
Title Tags and Meta Descriptions are elements of HTML that are placed on a web page. When a page is displayed as a search result, its Title Tags and Meta Descriptions usually show it to the SERP (search engine results page). This is important because it can have a big impact on your site visitors. Also, the images posted on your site must have Alt Texts.
How Many Backlinks Do You Have?
Backlinks are links that are created when one site is linked to another site. They are also called incoming connections.
Is your URL structure optimized?
The URL structure is important for both search engines and site visitors.
The final part of the website audit
It may take a few days or a few weeks, but in any case, an audit is essential to the success of your site. You need to plan your site audit at least twice a year. And for relatively large sites, consider their audience more often. Auditing your site will allow you to be at the forefront of search engine rankings, reach your customers easily, and be ahead of your competitors.